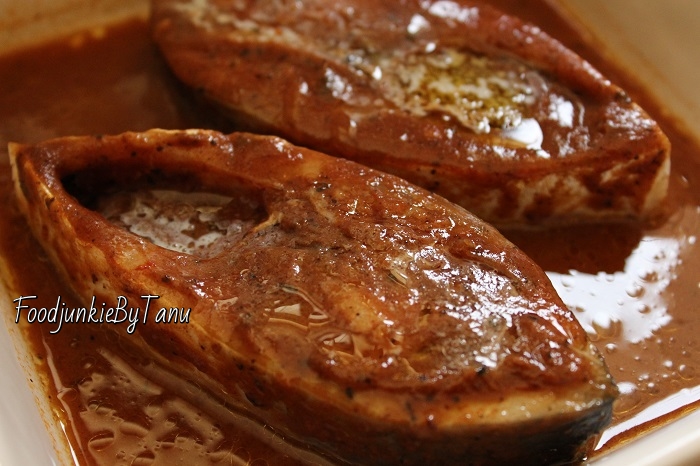 Baked Illish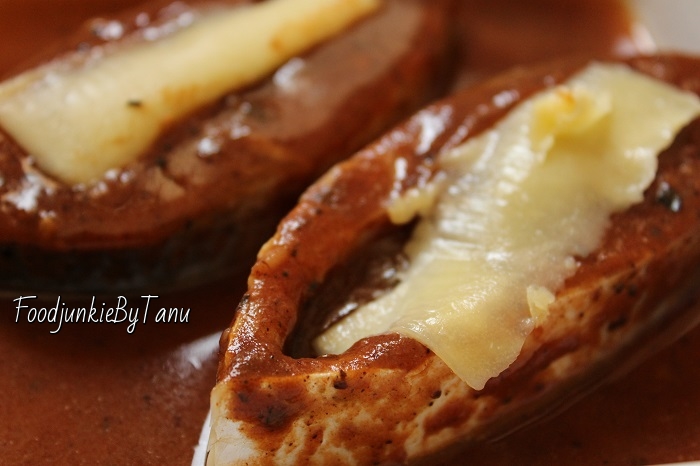 Why should I call an illish – the hilsa? I wouldn't, I am a Bong. Why should I not romance it long past it's prime season for eating? I wouldn't, I am a Bong.
I recently read a long scientific article about the reasons behind the unique taste of illish. The author mentioned a lot of fatty acids and other chemicals that almost killed the romance that most Bongs have with illish. After all, who wants to find out the science behind poetry? Not me. We Bengalis are a crazy lot when in comes to fish, specially the illish. And I aim to be that crazy Bong who dreams illish recipes, argues that economic embargo between two neighbouring countries should be negotiated on basis of the illish, tracks prices like a wall street vulture, searches the web for poems/stories written on illish and feels delighted at finding a few.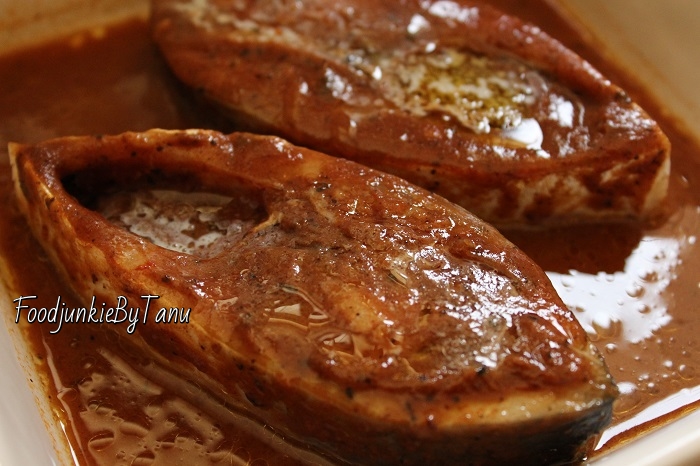 Last year, I posted a couple of old illish recipes on this page. This year is my modern take on the illish – The spicy baked illish…
Illish stakes – 2; fresh tomato puree – 1/2 cup; whole dried chilli – 2; butter – 1 tbsp; white vinegar – 1 tbsp; salt to taste
1. Marinate the fish stakes with salt and vinegar. Set aside for 10 minutes;
2. Roast the whole dry red chillies over open fire or on a tawa;
3. Crush the chillies into the tomato puree; add salt;
4. Drain the marinade off the fish. Add the fish into the tomato puree;
5. Set over a glass baking dish and put knobs of butter over the two stakes and cover the dish with aluminium foil;
6. Pre-heat oven to 160 C. Bake the fish for 20 minutes; basting the fish twice with the melted butter twice in between;
7. The fish should be soft and buttery;
8. Serve with steamed white rice.