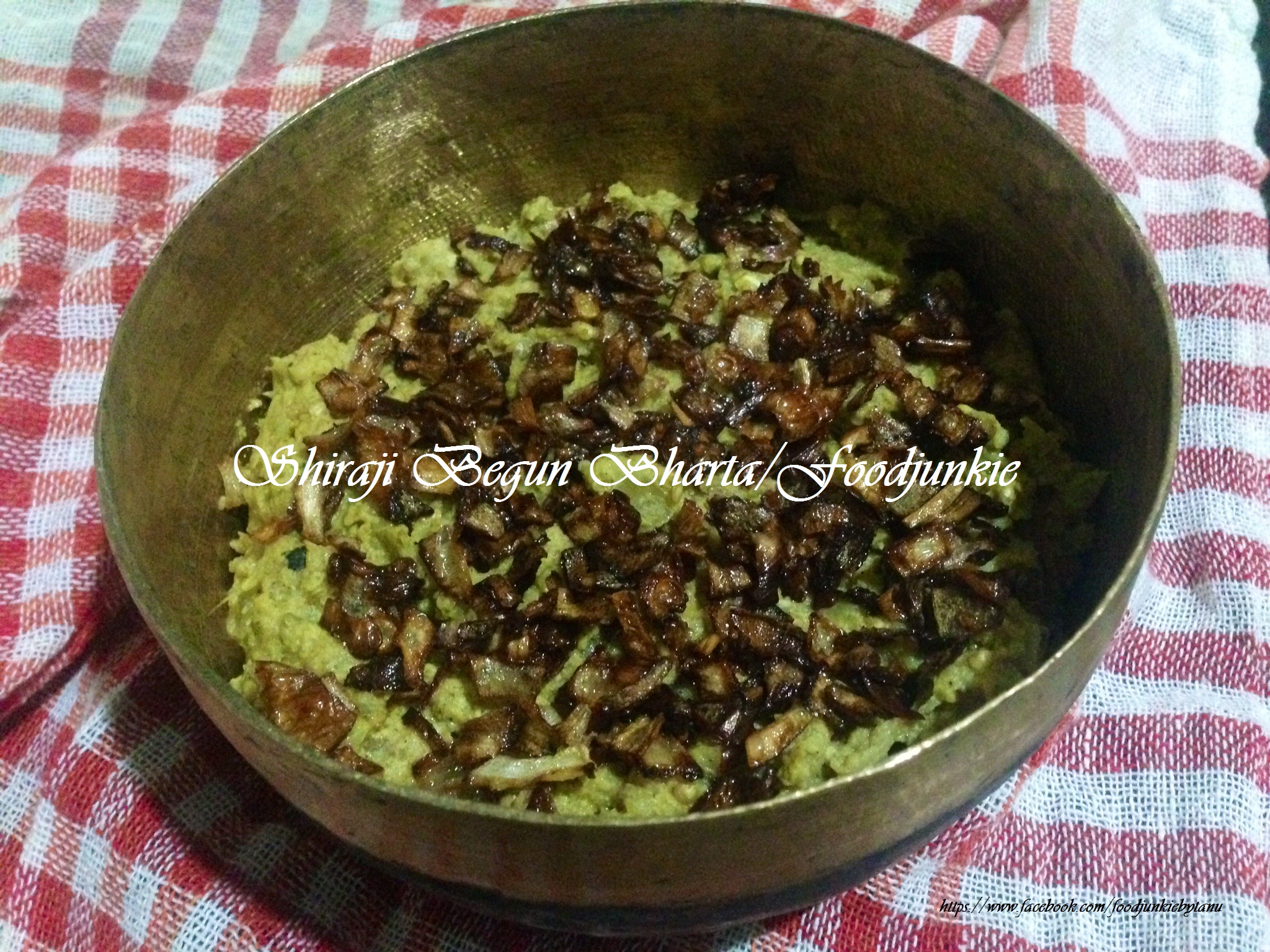 Begun'er Shiraji Bharta (Shiraji Baigan/Aubergine)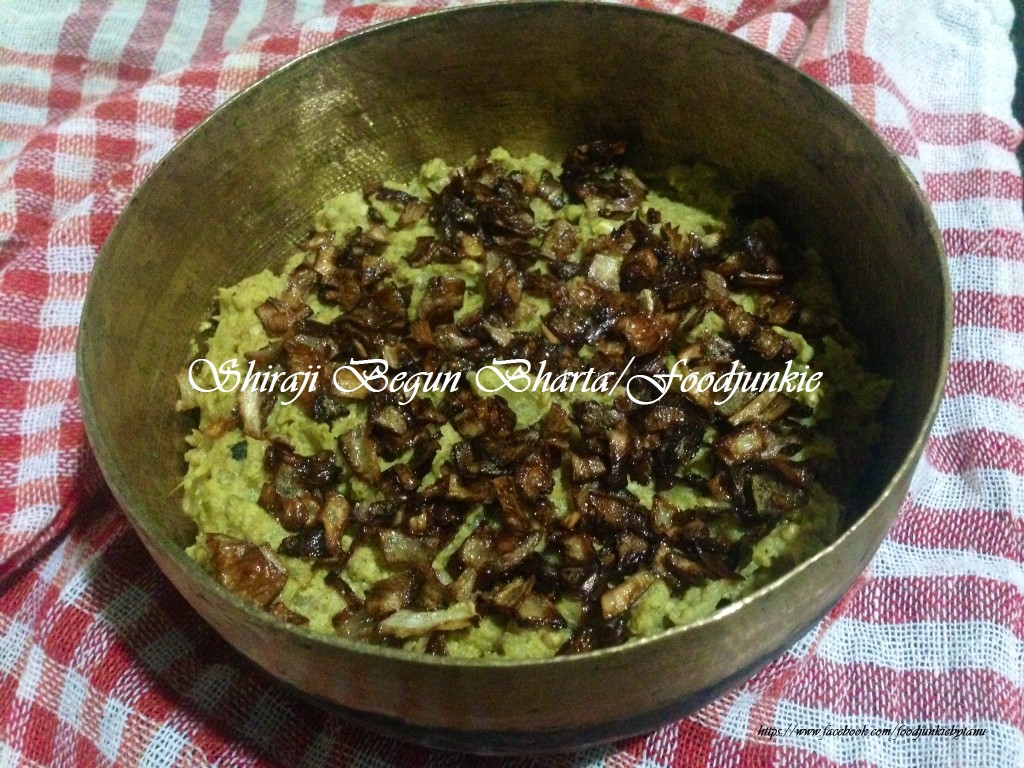 "What's in a name? That which we call a rose. By any other name would smell as sweet", argued Shakespeare's Juliet with her Romeo. I invoke Juliet not in my bid to defend young love but to put into context what has been going in my mind since I came across this recipe. I found the recipe for Begun'er Shiraji Bharta in 'Pak Pranali' by Bipradas Mukhopadhyay.
Bipradas Mukhopadhyay's 'Saukhin Khadyapak' published in 1889 is the first most popular Bengali cookbook, though there were three cookbooks that preceded this. Two volumes of 'Saukhin Khadyapak' was later compiled and published as 'Pak Pranali'. Mukhopadhay's cookbook gives a very good idea of the changing Bengali palate and introduces some (then) new vegetables as well as Persian, Jewish, English, and other European influenced recipes.
Coming back to the 'Begun'er Shiraji Bharta', it is an interesting recipe that scrambles eggs in a begun bharta. The name Shiraji explains that it is a Muslim (influenced) recipe. The recipe in itself was not unknown to me but I knew it by another name and with slight variations – this is where Juliet invaded my mind! I knew this as Khagina. It is made in our home every winter, and comes from my maternal grandmother, hence from the West Bengal/Ghoti side of the family. The difference is the addition of garlic, tomatoes instead of yogurt and omission of garam masala.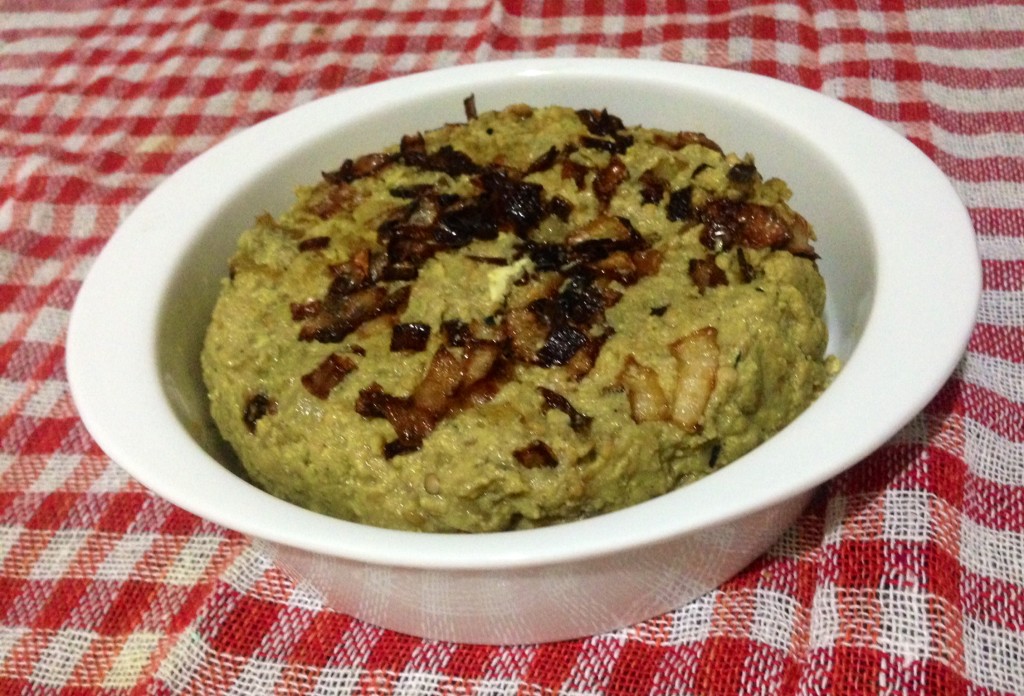 A similar recipe, but with boiled and chopped eggs added to the bharta can be found in the 'Calcutta Cookbook' by Jaya Chaliha, published in 1995 and in '101 Bengali recipes: Traditional Fare for The Modern Cook' by Babli Mukerji, published in 2014. 75 year old Babli Mukherji is the granddaughter-in-law of Basanti Devi, a freedom fighter and wife of Indian freedom fighter C. R. Das. The book chronicles many recipes handed over to her by Basanti Devi. In both the books, the recipe is again called 'Khagina'. However, Bipradasbabu's also writes of a Khagina but his version is almost like a Mexican Omelette. On the other hand, the Hyderabadi Khagina is a spicy scrambled egg.
Having tested all the four recipes, I prefer the oldest version because of its creaminess and flavour, though this can only be made occassionally. To qoute Bipradasbabu, "Shiraji bharta uttam sukhaddo, ejonne ekbaar uha ahaar korile shorboda ahaar'er probitti jonme…" (Shiraji bharta is a delicacy, that is why if you eat it once you will want to eat it again and again). And of course, 'What's in a name' but sorry Juliet, my ears prefer 'Shiraji' to 'Khagina' – takes me closer to Sirajudullah and the Nawabs.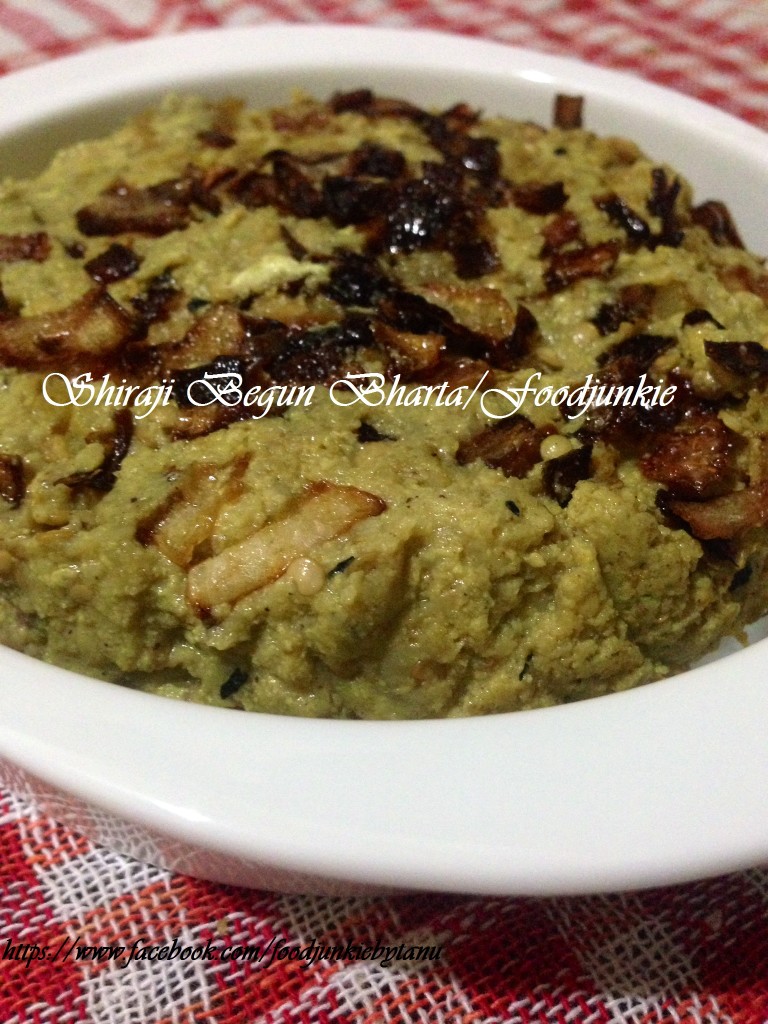 Begun'er Shiraji Bharta (Shiraji Baigan/Aubergine) Bharta
Ingredients
Aubergine/eggplant: 1 kg; Eggs: 2; Ghee: 250 gms (I used about 5-7 tbsp); Onions (coarsely chopped): 125 gms; Ginger juice: little less than a tbsp.; Yogurt: 250 gms; Raisins: 35 gm (about 8-10); Cinnamon and clove powder: 1 tsp; Green cardamom powder: ¼ tsp; Black pepper powder: ½ tsp; Saffron: a pinch; salt to taste
1. Wash and pat dry the aubergine. Apply some oil all over and roast on an open flame. You can also grill it or roast in the oven, but then it doesn't get the smoky flavour. Roast the aubergine till its tender and cool it. Once cooled, peel the skin and mash the aubergine with some salt.
2. Heat the ghee in a pan; brown half the onions and keep aside. In the same pan, add the rest of the onions and sauté till translucent and add the mashed aubergine.
3. Fry for 5 minutes and add the raisins, ginger juice, black pepper and the yogurt. Lower the flame and mix well. Cook for about 5 minutes.
4. Now break the eggs into the pan and mix well with the aubergine. Cook for another 5 minutes and add the remaining spices and the saffron.
5. Stir and cook till the mixture is smooth, creamy and aromatic. Sprinkle the brown onions on top and serve.
Note: The original recipe gives measurements in anna/tola, I have converted them into more easily understood measurements.