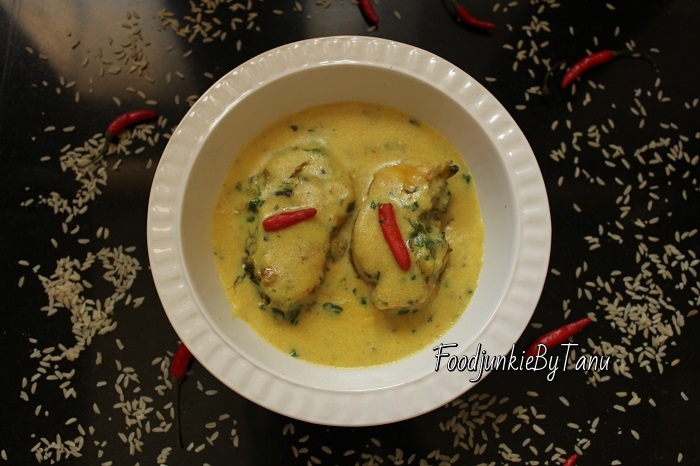 Doi Maachh (Fish in yogurt sauce)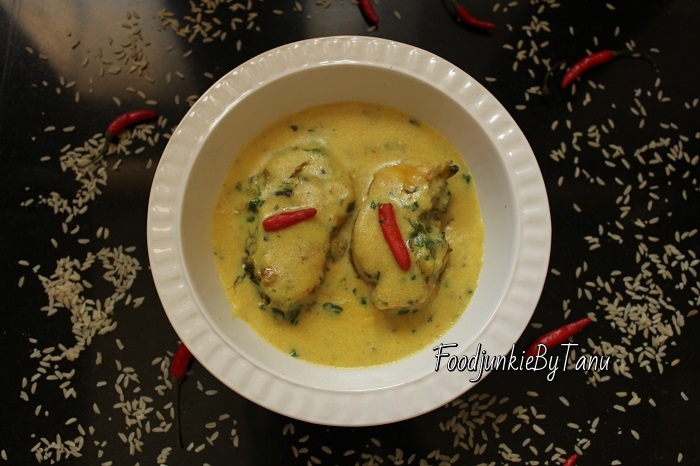 Summers and I seem to have come to an impasse this year – it refuses to let me go and I refuse to let go off my dislike for it! The saving grace is that it is still occasion for indulging in biulier daal (urad daal) – aloo posto, tok daal and doi maachh. Though there is no diktat that stops one from having doi maachh in winters, or any other season. Doi maachh is a Bong delicacy that has not got its complete dues. In my books, it surpasses the better known fish kalia and shorshe maachh (fish in mustard sauce) but has remained a little behind in the queue of Bong fish recipes just because it is too delicate and refined to fight for attention!
Doi maachh is one scary animal for me. I compare standards with the one that my mothers dishes out and I am in constant possibility of failing her standards – that level of balance and perfection is difficult to attain. She makes a delicate, white, flavourful, creamy sauce that tantalisingly wraps itself around a melt-in-the-mouth, sweet piece of fish. Hence, I usually avoid this dish but this time I had to take on this challenge to convince and win over a self-proclaimed Bong-basher. And did it work its delicate, unassuming charm…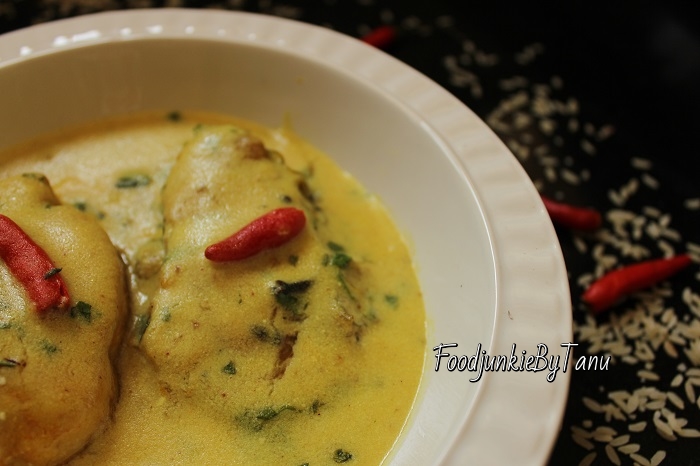 In the name of the salvaged pride of Bongs, I present to you the Doi maachh –
Ingredients:
Stakes of rohu/katla fish: 2; Fresh yogurt: 1 cup; Juice of one small onion; Juice of 1/2 tsp ginger and garlic; Whole garam masala: 1 green cardamom, 2 cloves, 1 small piece of cinnamon; Garam masala paste – 1/2 tsp; Green/red chilli: 1, slit lengthwise in half; Salt and sugar to taste; A pinch or two of turmeric; 1 tbsp. refined vegetable oil; Plain flour: 1 tsp
1. Wash and pat dry the fish stakes;
2. Marinate the fish with salt, turmeric, juices of onion, ginger and garlic;
3. Heat the oil in pan; do not smoke the oil. temper with whole garam masala;
4. Whisk the yogurt with plain flour, salt and sugar. Add to the pan over very low heat and cook for two minutes;
5. Add the fish to the sauce, with the marinade; add the chilli;
6. Cover and cook over low heat till the fish is done;
7. Add the garam masala paste; adjust the seasoning;
8. Serve with steamed white rice.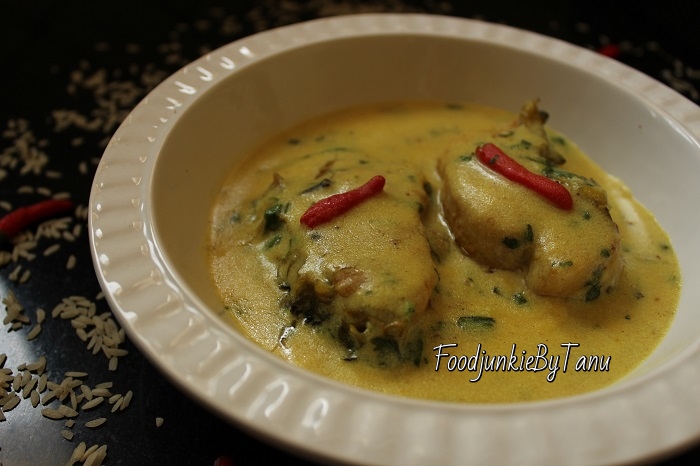 While making the Doi machh, here are some thumb rules from my Mom's diaries:
1. The fish has to be matured (paka machh as it is called) and the freshest catch of the day.
2. The fish is NOT fried for this dish.
3. The yogurt should be fresh too and not too watery.
4. Beat the yogurt with a teaspoon of plain flour, so that the sauce is smooth and doesn't split.
5. it has to be a balance of sweet, sour and salt.
My mother doesn't add any turmeric to the fish or the gravy but I added a little turmeric and some chopped coriander for a faint hint of colour.