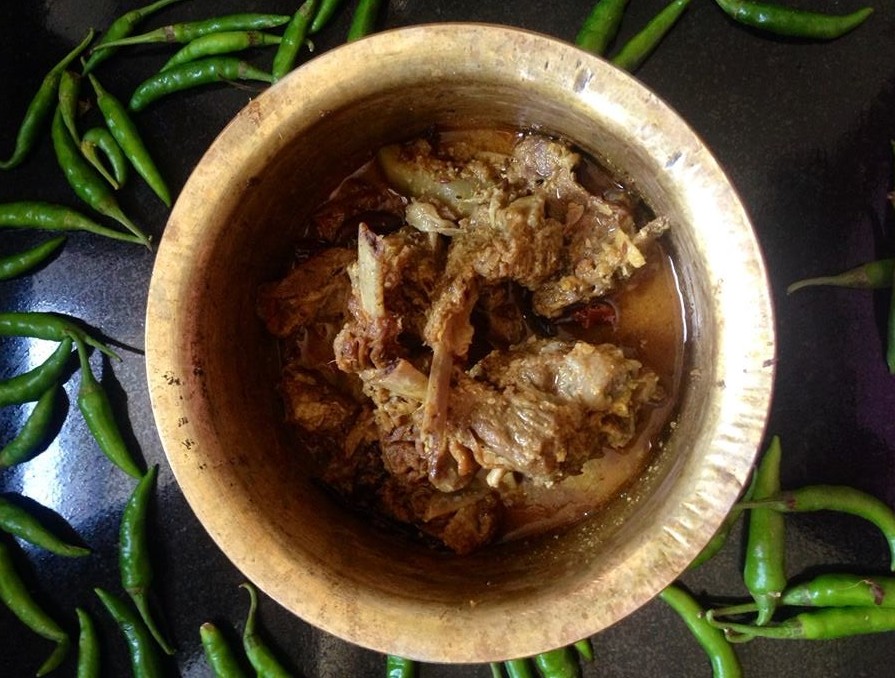 Niramish Mangsho (Vegetarian Meat)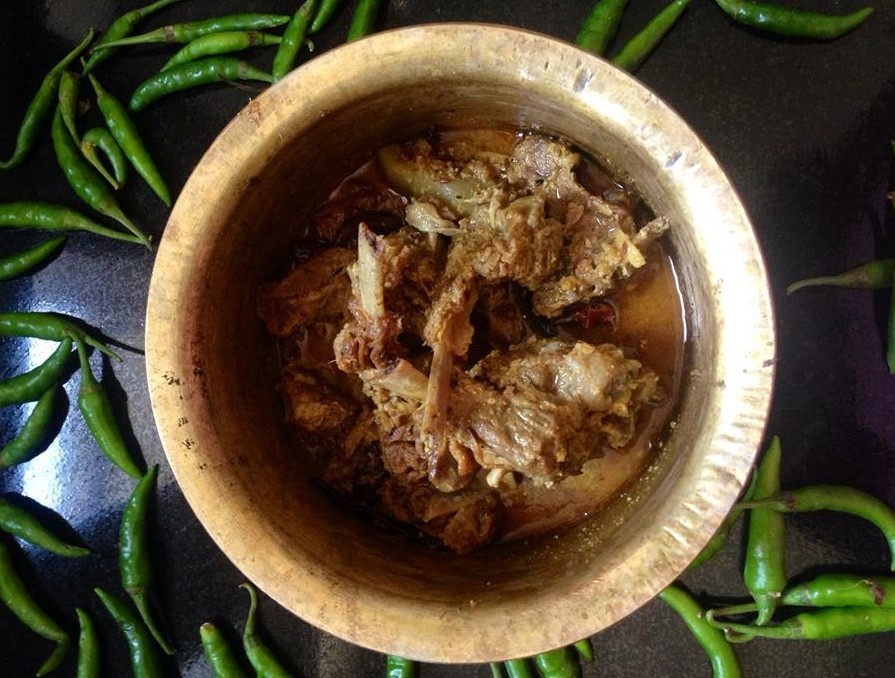 I choose to start with a disclaimer that this is not a commentary on the appropriateness of animal sacrifice. This debate scares me, because of the tendency of forming arguments based on half baked understanding of genesis of religious beliefs.
Animal sacrifice ('Bali') is made in a lot of Hindu shrines, specially dedicated to Shakti or Mother Goddess. Though it is on the decline, during Durga puja and Kali puja, animal sacrifice, especially goats are sacrificed in temples and in many families that traditionally have been doing these pujas. The sacrificial meat is then offered to the Goddess as 'bhog'. The Kalighat temple in Kolkata is famous for this, where fish and mutton are offered as bhog to the Goddess.
To the utter confusion of many, this is called Niramish Mangsho – vegetarian meat. This oxymoron is basically meat cooked without onion and garlic. In a more orthodox form, even tomatoes, potatoes and chilli peppers are not added to it. I personally believe that the addition or omission of ingredients is based on whether those are indigenous to the region rather than satvik/tamsik classification of it, which evolved much later. In fact, tomatoes, potatoes and chilli peppers are not added to bhog of any form in many families, including ours.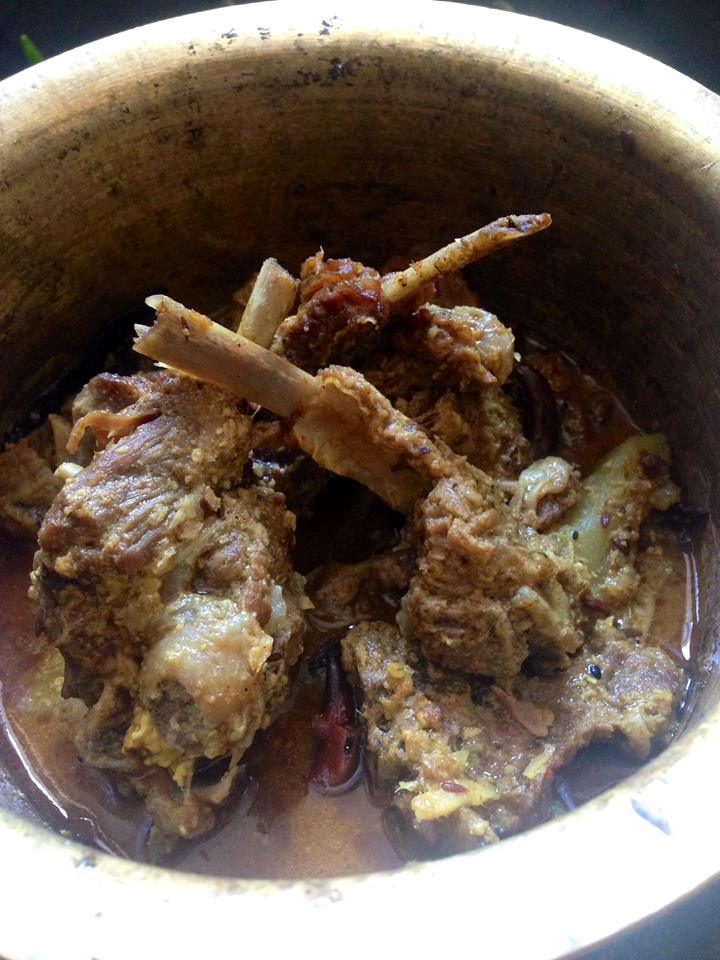 The one that I cooked is an orthodox family recipe from the mother's side. It has heeng-jeere-tejpata phoron (tempering of asafetida-cumin-bay leaf) and is devoid of any garam masala, and trust me, you will not miss it at all. I am also giving the Niramish Mangsho recipe that is made in the Kalighat temple for bhog. It is a richer version with addition of cashewnuts and charmagaj.
Kalipujor Niramish Mangsho
500 gm mutton, 8-10 one-inch cubes of raw papaya, 4 tbsp ghee, 1/2 tsp heeng, 1 tsp whole cumin seeds, 2 bay leaves, 2 tbsp ginger paste, 1 tsp powdered black pepper, 1 tsp turmeric powder, 1 heaped tsp roasted jeera powder, 75 gm curd, salt to taste
Method
1. Heat ghee in a pan. Temper with heeng, cumin seeds and bay leaves.
2. Add the mutton and the papaya to the pan, turn the flame to high and fry the mutton till brown.
3. Beat the curd with the remaining spices; lower the flame and add to the mutton. Sauté till the curd is cooked through and the ghee separates from the spices.
4. Add a cup or so of warm water, cover and cook till the meat is tender. At this stage, the entire thing can be transferred to a pressure cooker and cooked till the meat is tender.
5. Adjust salt and serve.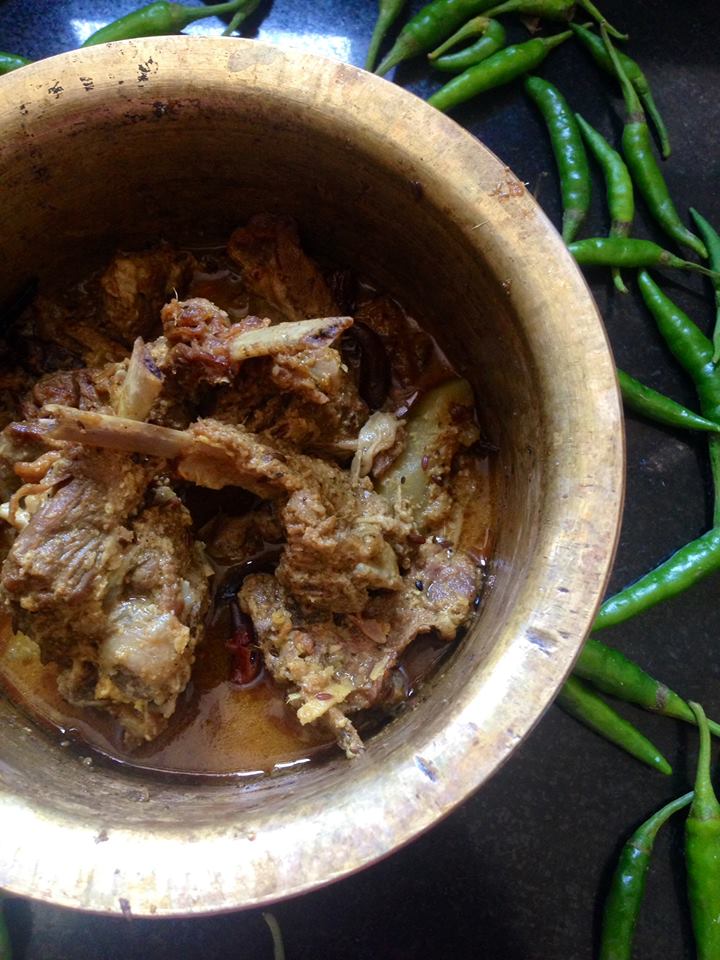 Kalighat'er Niramish Mangsho
500 gm mutton, 5 tbsp ghee, 50 gm ginger paste, 125 gm cashew and charmagaj paste, 2 tsp whole and powdered black pepper, 1 tbsp turmeric powder, 1 tsp garam masala powder (green cardamom, cinnamon and cloves), 75 gm curd, salt to taste
Method
1. Marinate the boiled mutton with ginger paste, black pepper, salt, curd, turmeric powder and 1 tsp of ghee for 30 minutes
2. Add ghee in a frying pan. Add the mutton and stir till colour starts to change.
3. Add the kaju-charmagaj paste. Add water to keep the mixture from sticking to the pan.
4. Stir the mutton till it turns dark brown; add a pinch of black pepper powder.
5. Add garam masala and cook for another minute and take off the fire.
Note: The Kalighat Temple is regarded as one of the 51 Shakti Peethas of India, where the right foot of Shakti or Sati fell. Though there are many stories, the early history of the shrine is not well known. It grew to its present form over a period of time, particularly under the patronage of Sabarna Roy Chowdhury of Barisa in 24 Parganas.