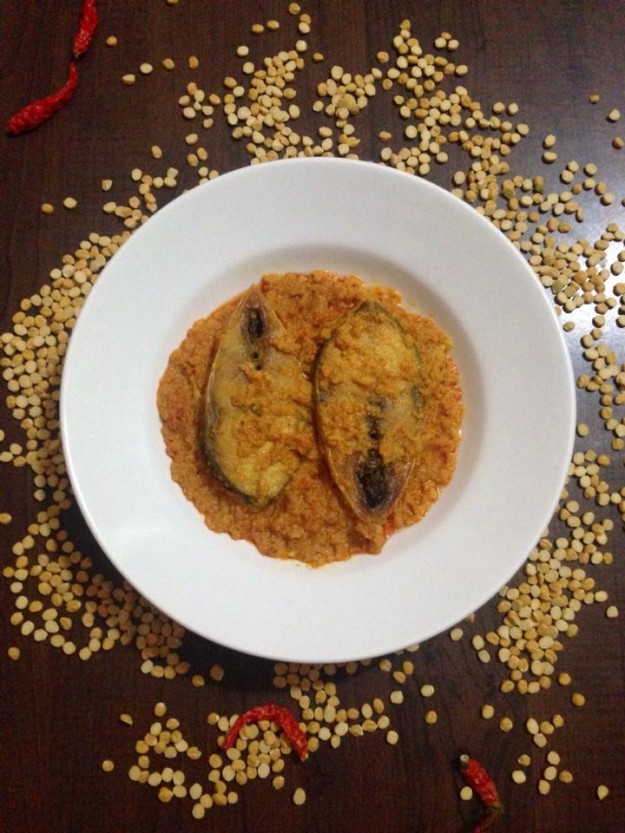 Chanelish – Hilsa cooked with Chana/chholar dal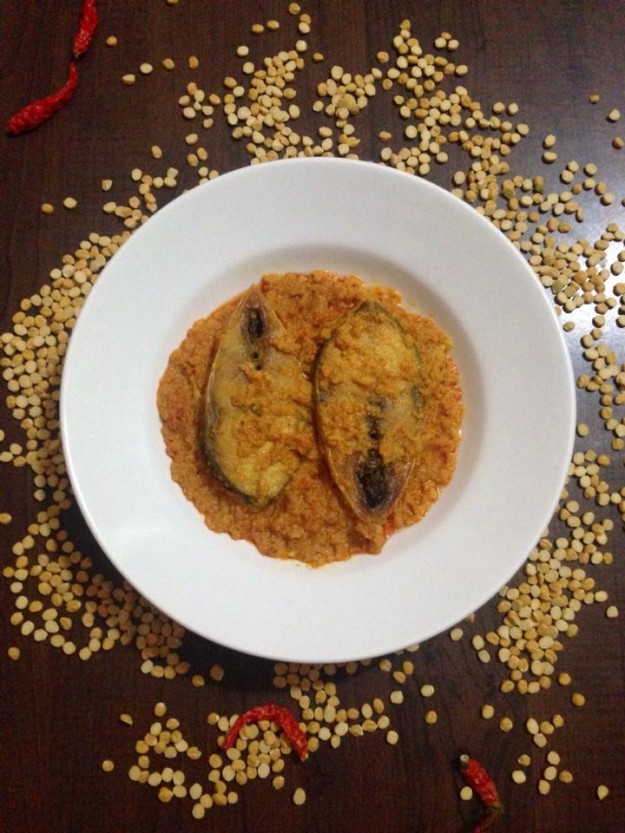 This recipe is from Renuka Debi Choudhurani's cookbook – Rokomari Aamish Ranna. It is a treasure to have in any kitchen that loves Bengali  cooking and food. It uniquely combines Hilsa and chana daal. It is beautiful to look at, it is rich, fragrant and one of the best Hilsa recipes I have tried. For me the best thing about the recipe is the name – Chanelish!! It kind of foxes you into all sorts of guesses and imagination.
I have seen variations of this cooked in our family but that is prawns cooked with motor dal but that is for another time…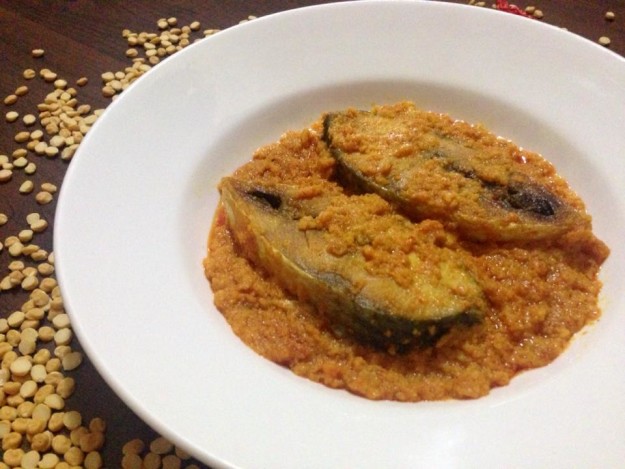 Ingredients
Hilsa steaks (washed and marinated with salt and turmeric for 10 minutes) – 2, Chana/chholar dal (washed and soaked for 2 hours) – 2 tbsp, Yogurt – 1/2 cup, Red chilli, Kashmiri chilli and turmeric powder – 1/2 tsp each, Vegetable oil – 2 tbsp, Ghee – 1 tbsp, salt and sugar to taste
1. Grind the dal to a smooth paste.
2. Heat the oil and ghee in  a pan, lightly beat the dal paste and add it to the pan. Fry on low flame till it is well roasted and golden on colour. Take the dal off the flame and keep aside.
3. In the same oil lightly fry the fish and keep aside.
4. Reheat the pan and add the spice powders mixed with a little water to the pan. Fry till the oil separates.
5. Beat the yogurt with the roasted dal paste, salt and sugar and add to the pan, cook till the oil starts seperating. Add half a cup of water and gently place the fish on top of the gravy. Cover and simmer till fish is done. Keep checking frequently so that the gravy doesn't burn.
6. The gravy should have a rich gold colour and is extremely fragrant.
Note: The original recipe uses only ghee but I use vegetable oil and add a tbsp of ghee to it. Also the Kashmiri chilli powder is my addition as it imparts a lovely golden colour to the gravy.