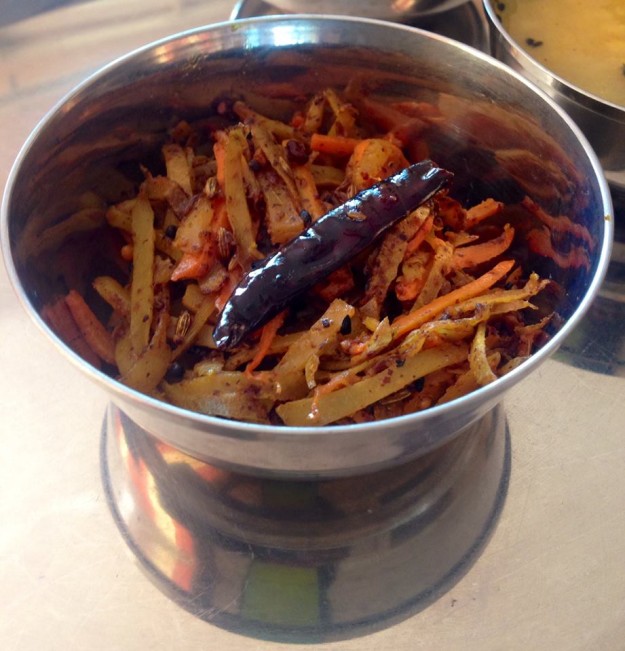 Didubhai'r alu khosha'r chenchki (stir fried potato peels)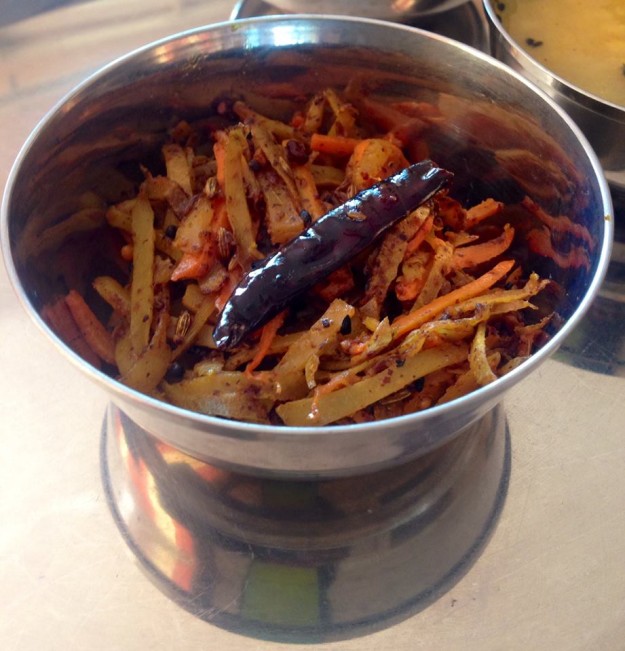 One of the many ironies of life is that the best, the most complex is often born out of tough constraints and frugality. This is also true for Bengali vegetarian food, most of which came from the highly restricted and frugal kitchens of the widows. Left with so little to do personally and socially, it could have been an outlet for their unrealised creativity or may be sheer boredom that made them toil and experiment to create variety and small luxuries out of bare minimum stipulated to them by the society. These dishes with layers of complexity, taste and creativity seem like small triumphs against the oppressive society.
The other interesting thing that comes forth mostly in the vegetarian dishes of 'opaar bangla' (now Bangladesh) is the tenacity of not letting any bit the vegetable to go waste. This resulted in scrumptious chorchoris, chenchkis and kauras using vegetable stalks, seeds and peels. This might have been due to frugality born out of resources that were frequently subject to natural disasters.
Didubhai's, my maternal grandmothers' Alu Khosha'r Chenchki (stir fried potato skin) combines both the thoughts above into a wonderfully fragrant and spicy delight. She is famed and often teased for skilfully using each and every bit of most vegetables -peels, seeds, flesh et all. She is equally dreaded for her very vocal disdain of wasting the most nutritious bits of the vegetables. Alu khosha'r chenchki is one of the many from her kitchen, best had with a light soupy dal and steamed rice.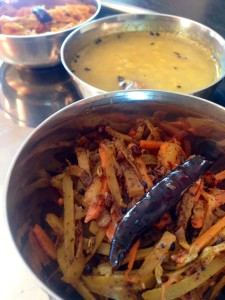 Ingredients:
Potato skins (peeled a little thickly so that there is a little flesh with the skin) – of 4 medium sized potatoes; Mustard oil – 1 tbsp; Whole dried red chilli – 1; Panch phoron – 1/2 tsp + 1/2 tsp dry roasted and ground; mustard paste: 1 tsp; Chilli powder and turmeric powder: 1/4 tsp each, salt to taste
1. Wash the potato skins in running water to rid them of any mud. Chop into matchstick like juliennes and keep submerged in water.
2. Heat the oil in a pan till smoking and lower the heat. Break the whole dry red chilli into small pieces and temper the oil with the chilli and panch phoron.
3. Drain the water and tip in the potato skins, add salt and turmeric and sauté till almost translucent.
4. Mix the chilli powder and mustard paste with a little water and add to the potato skins. Mix well.
5. Lower the flame; cover and cook till the skins are cooked through. Check and stir frequently, and add a little water if necessary to prevent burning.
6. Sprinkle the roasted panch phoron powder, adjust the salt and take off the fire.
Note: I followed my mother's rule of chenchkis and chorchoris that anything goes in them, and added some juliennes of carrots for colour. One can add potatoes, cauliflower stalks and other peels as long as they aren't watery.
Choose the potatoes with unblemished skins and discard any green bits.