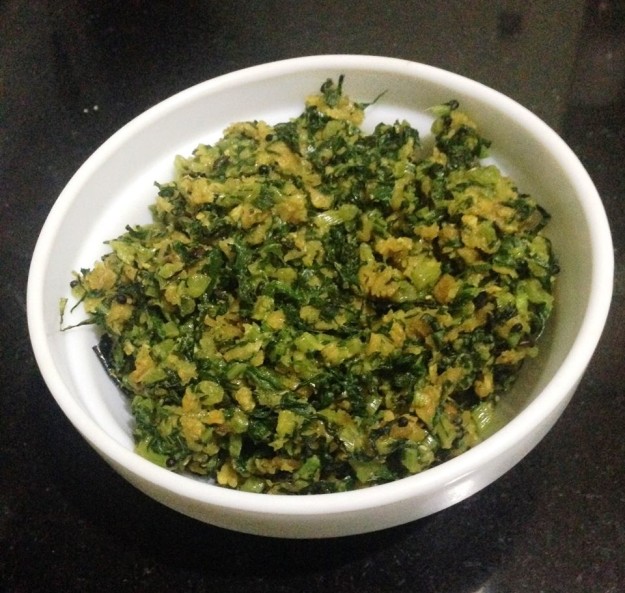 Mulo Shak Pithali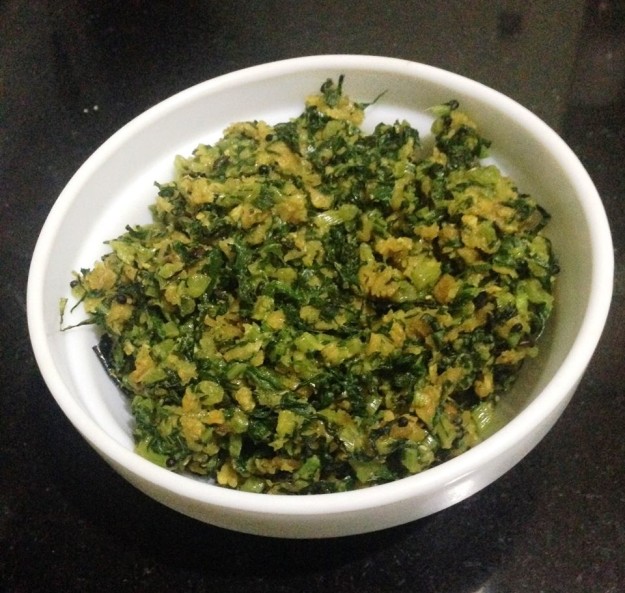 I bought this seasons' first radishes with their tender greens, with mulo shak pithali in mind. Mulo shak pithali is an heirloom recipe of tender radish greens cooked with ground red lentils (musoor/masoor  dal). It is a very seasonal dish and tastes best when made with the season's first radish greens. It is a Dhakaiya (from Dhaka) recipe that my mother learned from her mother and introduced it in my father's Sylheti family, after she got married. I guess this is one of the channels of how food has travelled across boundaries over the ages.
I have always seen it made with mulo shak and masoor dal; however, my grandmother tells me that in some families it is made with coarsely ground rice paste. That makes sense as Pithali is a term for batter using ground rice paste. If you happen to search the cyber space and invoke the google gods, then the few references to pithali is restricted to fish cooked with greens. I have never seen fish added to it and it should classify itself as a vegetarian dish, if unlike us; you consider masoor dal to be vegetarian.
It might be a bit of an acquired taste if your taste buds aren't used to the slight pungency of the radish greens but the dal makes the transition smoother.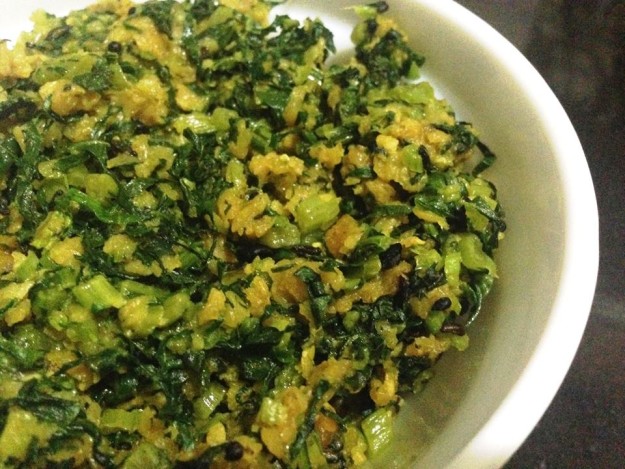 Ingredients:
Kochi mulo shak (tender radish greens with the stems): 2 cups, washed and finely chopped; Masoor dal (red lentils): 4 tbsp (washed and soaked in water for about 2 hours); Whole dried red chilli: 2 (broken into small pieces); Panch phoron (bengali five spice): 1 tsp, Mustard oil: 1-2 tbsp; Turmeric powder: 1 pinch, salt to taste
1. The greens should be chopped really fine, specially the stems.
2. Coarsely grind the masoor dal with a little water. The paste should not be runny.
3. Heat the mustard oil in a pan; temper with the dried red chilli and panch phoron. Fry till the spices release their aroma but shouldn't burn.
4. Add the ground dal to the pan, a pinch of turmeric powder and a little salt. Roast till the dal is aromatic and changes colour. The dal has to be stirred continuously so that it doesn't stick and burn. Keep breaking the dal while stirring so that it doesn't form a lump.
5. Tip in the chopped greens and mix well. Cook in an open pan on low flame till the greens are cooked. Adjust the salt.
Note: It is important to cook it in an open pan over low flame to retain the green colour of the mulo shak.