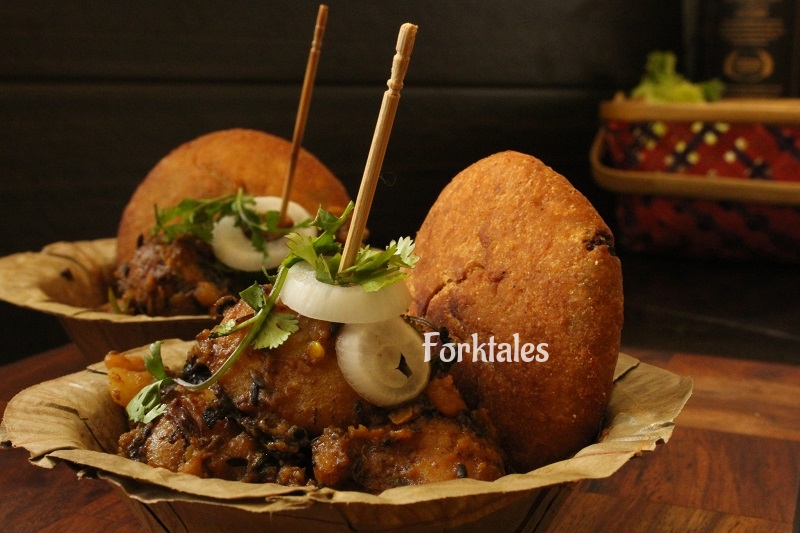 Koraishuti'r Khasta Kochuri and Aloo'r Dum – (Green peas kachori with dum aloo)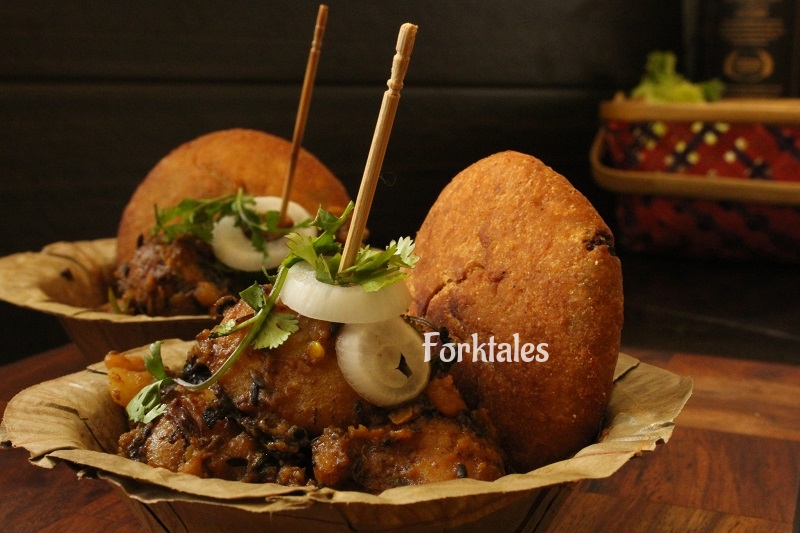 I remember once when Baba had brought home some 10 kilos of peas from a village because the farmer sold them at Rs.2 a kilo! The driver had dragged a gunny bag behind him. Ma had made Baba and me sit through the entire Sunday and pop peas, much to my charging! When Didi and I were still at home, she would buy peas in bulk and we would sit on Sundays and pop them out of their pods! About 1/4th would get consumed in the process, behind her back. The rest would be made into the 'pur' (stuffing) and stored for making koraishutir kochuri (green pea kachori) later.
I do not remember the first time I sunk my teeth into super flaky koraishutir kochuri teeming with flavour, it was so deep back in my childhood but till I came to Delhi, I never had a matar ki kachori, as it is called here, that was store bought. Ma happens to be an expert at it. Every winter there are requests to her from family, friends and neighbours which she happily obliges to. But only in winters, when peas are in season, sweet and fresh!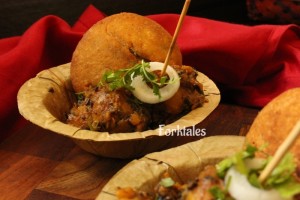 And then there is the Kolkata street side dum aloo. Kolkata is perhaps the only city where dum aloo is a street food in its own merit. Odisha has dahi bara, aloo chop and bara which are served with dum aloo but you dare not imagine the two dum aloo to be similar to each other. The baby potatoes in dum aloo take on a dusky, spicy, tangy avatar on the streets of Kolkata. A maiden independent enough to stand on her own merit and zesty enough to co-habit with the koraishutir kochuri and yet hold on to her independence!
Note: The koraishutir kochuri and aloo dum are a classic sinful combo that most Bengalis give in to during the winter. It is best made and had when the fresh sweet peas and the baby potatoes are in season during winter. I somehow do not advocate it during summers, giving in to my "eat seasonal" principle! Some things are worth the wait!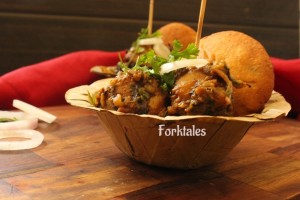 Aloo'r Dum
Baby potatoes – 500g (Boiled & peeled. Poke a few holes in the potatoes with a fork), Onion- 1 medium (finely chopped), Ginger-Garlic paste- 2 tsp, Bay leaf- 2, Cumin seeds- ½ tsp, Salt to taste, Turmeric powder- ½ tsp, Fresh coriander leaves- a handful (finely chopped), Tamarind paste- 1 1/2 tbsp (diluted in 1/4 cup of water), Mustard oil – 2 tbsp
Dry spice powder: Coriander seeds- 1 tbsp, Cumin seeds- ½ tbsp, Whole dried red chilies – 3 or 4 (or to taste), Whole black pepper- ½ tsp, Cinnamon stick- 1 inch, Black cardamoms- 1, Bay leaves- 2
Roast the ingredients of the dry spice powder individually and grind to a fine powder;
Heat mustard oil in a deep wok and temper with bay leaves and cumin seeds;
Add the chopped onions and fry till the onions are brown on the edges. Add the ginger-garlic paste mixed with a dash of water and fry for a minute.
Add the dry spice powder, turmeric powder and salt. Add a splash of water, and fry over low heat till the spice is no longer raw and oil starts floating;
Add the boiled potatoes. Toss and coat with the spices, cover and fry over low flame for 5 minutes. Check to prevent burning at the bottom, add some water and cook for another 7-8 minutes;
Add the tamarind paste and remove from heat. Garnish with coriander leaves.
Koraishuti'r Khasta Kochuri
Peas stuffing: Fresh Green Peas – 1 cup, Ginger – 1/2 inch, Cumin seeds – 1 tsp, Asafoetida (hing) – 1 generous pinch, Salt and sugar to taste, Mustard oil – 2 tbsp
Make a paste of peas and ginger using very little water;
Heat the mustard oil in a pan and temper with cumin seeds and asafoetida;
Once the cumin splutters and releases aroma, add the green pea paste to the oil. Add the salt and sugar and stir continuously to prevent the paste from sticking to the bottom of the pan. Cook till the peas are no longer raw;
Remove from fire and cool. The paste can be refrigerated and stored in an air tight container for a week.
Dough: Mix of refined flour and unrefined flour- 1 1/2 cup, Salt 1/4 tsp, Ghee – 2 tablespoons, Vegetable oil – 2 tbsp, Ice cold water
Mix the flour with salt and make a depression in between;
Add the ghee and oil and gently mix into the flour till it is crumbly;
Knead into a smooth dough with ice cold water. Cover and keep in the refrigerator till ready to use.
Kachori:
Make small balls from the dough and pull out the edges to make a small bowl;
Put a little stuffing in between, gather the edges into the centre, pinch the edges to seal roll into a ball between the palms;
Flatten a little and roll them with little oil to make small disks. Take care that the kochuri does not spill or crack;
In a wok, bring up the oil and ghee for frying to very low heat. DO NOT overheat the oil else the kochuri will blister and remain uncooked inside;
Slide in the kochuris and fry on a low medium flame till golden brown;
Drain the oil on a tissue paper and serve with aloo'r dum.