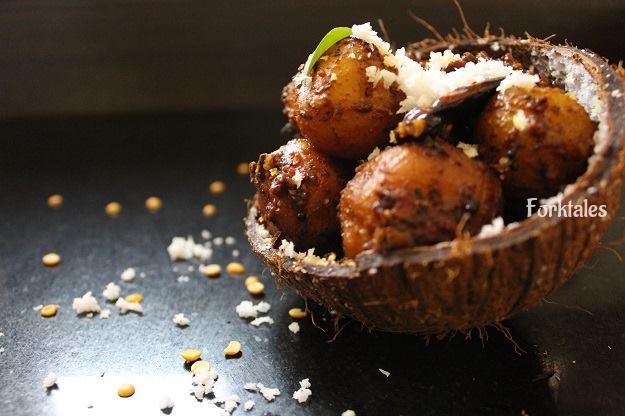 Ennai Urulai Kizhangu Varuval – Chettinad Spicy Potato Roast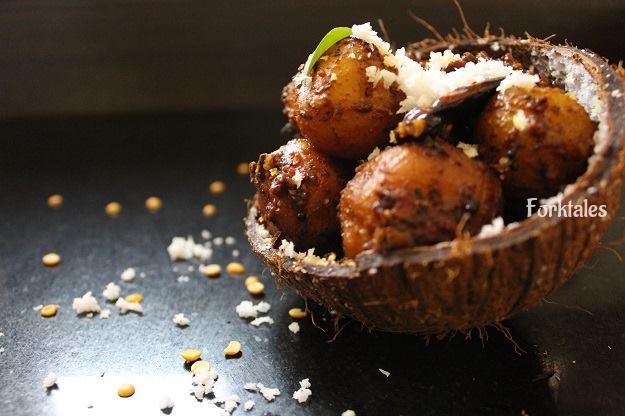 The Chettinad Potato Roast is a perfect match of two very important things in my food experience – potatoes and aromatic balanced spices! I am a spice addict. Days when I have had long tiring experience I open my spice cupboard and stand in front of it. That is my home-grown therapy!
Hence the natural pull towards Chettinad cuisine which is spicy, aromatic and has liberal use of oil. Popular spices used are peppercorn, cinnamon, bay leaves, cardamom, nutmeg, green and red chilies, coriander, cumin, fenugreek and star anise. In the 13th century the Nattukottai Chettiars migrated to Karaikudi from the Cauvery Poompattinam, following a massive flood. The new settlement eventually became the Chettinad region (Land of the Chettiars), out of which around 75 villages still exist today. Starting as traders, the Chettiar's travels took them to various places in South East. And thank god for it because with them came about the Chettinad cuisine which marries their coastal memories with adapting to a dry-arid region!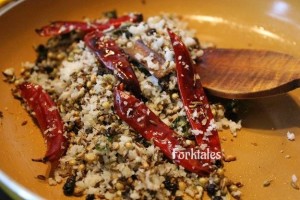 Varuval is a common Chettinad way of cooking – which is basically a dry dish, fried with spices and onions. The freshly ground masalas should be hand pounded on mortar and pestles to lend an earthy flavor. The dish is best made with baby potatoes and can be served as a side dish or appetizer.
They say in South India that "one is lucky to eat like a Chettiar". So a good thing to do is to make a jar full of the spice mix and have it in your kitchen to jazz up many a dish.
Ennai Urulai Kizhangu Varuval
Ingredients
Baby potatoes, boiled and peeled: ½ kilo; Coconut oil: 3-4 tbsp; Mustard seeds: ½ tsp; Urad dal: ½ tsp; Curry leaves: 2 sprigs; Medium onions, sliced fine: 2; Green chillies, chopped: 2; Ginger garlic paste: 2 tbsp; Medium tomatoes, diced: 2; Turmeric: ½ tsp; Salt to taste; Chettinad spice powder: 2 tbsp; Coriander leaves, for garnish
Heat oil in a panand temper with mustard seeds. Once the mustard starts spluttering, add the urad dal and the curry leaves;
Add the onions and fry till golden brown;
Add the green chillies and the ginger garlic paste and fry till the raw smell evaporates;
Add tomatoes and fry on a low flame till oil floats on top of the spices;
Add in the ground masala, turmeric and salt. Toss to coat evenly;
Add half a cup of water and cook over low flame till the sauce thickens;
Add potatoes, increase the flame and fry until almost dry and crisp spots appear on the spuds;
Remove from heat and serve garnished with chopped coriander leaves.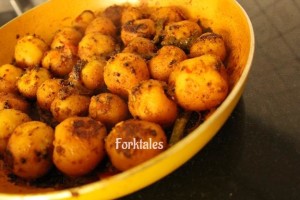 Chettinad Spice Mix
Coconut Oil: ½ tsp; Cumin seeds: 2 tsp; Peppercorns: 1 tsp; Coriander seeds : 2 tbsp; Dry red chillies : 4 to 5; Fennel seeds: 1 tbsp; Cinnamon stick : 1 inch; Curry leaves : 1 sprig; Garlic: 4 pods; Ginger (shredded): 2 tbsp; Green cardamom: 3-4 pods; Cloves: 5-6, Nutmeg: ¼ tsp; Shredded coconut – ¼ cup
Fry the ginger, garlic and coconut in the oil;
Dry roast spices individually;
Mix all the ingredients and grind to a fine powder.