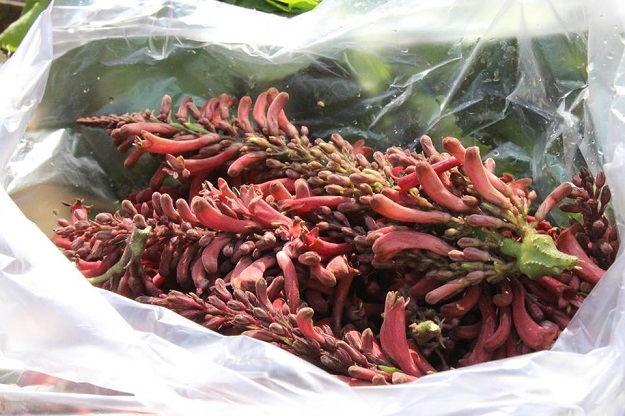 Rongabanheka or Teet phool stir fry
I wonder how many reading this post would be able to recognise the flower in the photograph! Very few, is what I will wager my bet on. Neither could my friend Debarati Dutta-Cherukuri when she joined us one afternoon in December for lunch. I had served the stir fry over lunch, which had her guessing for quite a long time.
To be fair, it isn't a common ingredient. It might be easier to recognise the leaves of a variety from the same family, the juice of which many a Bengali children have been forced to drink with honey as a remedy to common cold and digestive problems. 'Basak pata'r rosh' is the stuff of legends that Bong grandmothers and mothers swear by and whose bitterness haunts Bong childrens in their sleep.
But this particular flower is an uncommon ingredient.
Rongabanheka/teet phool /kola bahak/dhapat tita(Assamese), Wild nonmangkha (Manipuri), Tew-phot-saw (Khasi), Kham-chhit (Garo) is from the Phlogacanthus Nees genus endemic to North east, Bangaladesh and Myanmar. It grows wild during December-April as a forest undergrowth. Just like its cousin basak, rongabanheka/ nonmangkha is hugely valued in folk medicine as a remedy for cough and cold, bronchitis, asthama, pox and skin ailments. The decoction of the leaves is used to cure liver and spleen ailments. The ash from the plant and roots is also used as medicine.
The flower, however, is used by select communities. Certain ethnic communities from the Tinsukia district in Assam eat the flower as a vegetable as a cure to rheumatism, cough and anaemia. In Manipur the flowers are eaten raw or stir fried. In Arunachal, it is pounded and used as a condiment.
It was all acedemic knowledge untill I could lay my hands on a whole bunch of it at the Beltola Bojaar in Guwahati. The old lady selling it gave it to me with a patient description of its medicinal benefits and the advice to turn it into a stir fry to have with rice. It would make the bitterness tolerable!
Considering that I would buy any new vegetable and herb sold in local markets and cook with them, she would have sold those to me even without her most helpful and persuasive sales pitch.
The flowers reached New Delhi, wrapped in newspapers, and were turned into a light stir fry with chopped garlic, salt and turmeric. It just seemed befitting to use it with the most reverred ingredients from my kitchen – peels, stalks and leaves from vegetables that otherwise were destined for the bin. With just a bit of sweet pumpkin and a few potatoes.
I am definitely going to go in search of these when I am in Beltola again. May be dry the flowers this time and store it for later use.