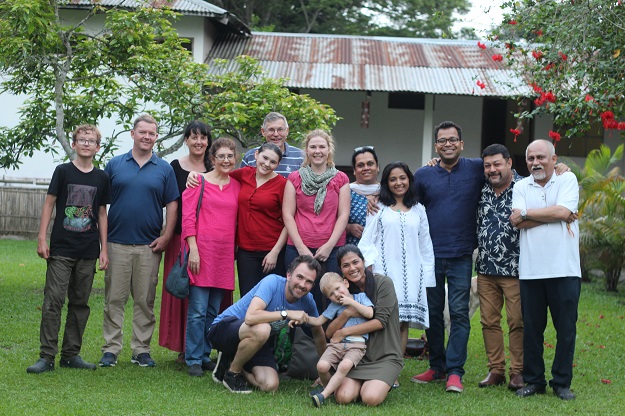 ForkTales Social Tables at Haroocharai Tea Estate, Jorhat, Assam
The Gora Sahib's Table – Food from the Raj and Cup of Tea
There is not a better day than to have come back from the most fulfilling and emotional event that I have done and to sit down to write this post.
Today is Didubhai's birthday, but her identity should not be confined in relations. She is Aruna Chanda, who commands a mention in her own rights. Born and married to two of the most illustrious families of Assam, felicitated by Assam Sahitya Sabha, her far sightedness lies in documenting her surroundings as she grew up in extraordinary times in a special place. ForkTales event – The Gora Sahib's Table – Food from the Raj and Cup of Tea – is dedicated to her as her documentation of Anglo-Indian recipes from the tea gardens of Assam was what made this event possible.
While dwelling on Indian food history, what often struck me was that Assam tea gardens are seldom a point of reference when food writers talk about Anglo-Indian food. For me it was an intriguing puzzle where the pieces just did not add up. With more than 100 years of presence in the state, having built empires in those lands and having run plantations that necessitated interaction with local communities, how is it that the British did not leave behind a legacy of food? There was surely something that we were missing!
I searched various sources, including Indian families of tea planters who inherited the legacy from the British, at length about Anglo-Indian planters food from Assam and failed to find any substantial written reference. There was an idea here, a snippet there and recipes like Hungarian goulash that wasn't unique! There was no collection.
Most families came back saying that the Mog cooks were gone with the British, migrated out of Assam and with them were gone the recipes. In times of transition, there weren't much documented. The planters clubs from the region had a few recipes which were the usual suspects, but nothing beyond that. Sadly, most of the clubs no longer served a menu from yore and didn't do much to keep alive a culinary legacy.
It was at this point that I had a conversation with my Didubhai about the disappointment I was going through. I wanted to understand from her, one who grew up very amidst the estates and had close access to the planters, if there was any food unique to the time in history when the British has settled in Assam. Her memory, even now at 95, is razor sharp. And she has been an avid documenter, of British coins, administrative hierarchy, literature and much more. She had to have something that would rest my query. And she did.
I have written at length earlier about her hand-written recipe book that she gave to me as her personal heirloom. Those were the days when I was just about showing interest in cooking. I would spend school summer vacations with her, cooking in her kitchen under her supervision. She had the most amazing gas oven, which was her wedding gift. She taught me cakes, pastries and puffs in that oven. She taught me pulao made with orange rinds, soups, stew and cutlets with gravy. She told me that daals used to be served in gravy boats during formal dinners, and how tables were laid. I stored all that in my young mind but never had the epiphany that these recipes were not quite our Indian recipes.
While talking to her, she pointed me towards that recipe book. It documents more than 100 recipes from tea gardens and families of Assam. She told me how many of those were passed down to her by her mother, who noted them down from Mog cooks. Many more were from clubs, and from small local magazines published by clubs and other establishments. It is only then I realised that I had a treasure in hand.
It was to share this, that we conceived the event – Gora Sahib's Table. It was also to take people and introduce them to the beauty that is Assam. A state hardly explored, but filled with hospitable, polite people and boundless beauty. It was to share a slice of my childhood spent in Upper Assam.
The event was five months of work, from idea to execution, by all of us. We chose the scenic Banyan Grove, named after a 200 years old Banyan tree and housed in the green expanses of Gatoonga Tea Estate, to host our guests. The heritage, colonial bungalow has stood witnessing more than 100 years in time and is a chip away from a 18-hole golf course.
The Planter's Lunch was recreated by ForkTales and hosted by Rajib Barooah in his beautiful Haroocharai Estate. A gracious host, he took our guests through a tea tour and tea appreciation, while his beautiful daughter Disha Barooah, hand held the guests through a tea tasting. We paired the tea with trademark tea menu from the Colonial era.
For me, there will never be an event more personal, food more momentous and surroundings closer to my heart than this destination pop-up. It was with this, that ForkTales came home.
Planters Lunch Menu
Planters punch
Cold Okra Soup
Eggplant Cutlets in tomato sauce
Homestyle Chicken Salami
Parsley Rice
Dhaal with 'Bagane Moshla'
Butter-pepper Potatoes
Butter-lemon-ginger Pabda (Indian butter fish)
Chicken Dak Bungalow
Planters Goulash
Green Mango Fool
Warm Pumpkin Malpua
Tea Tasting Menu
Old style Cucumber Sandwiches
Tea and Ginger Sponge
Coconut Macaroons
Thumb-print Cookies and Salted Cookies