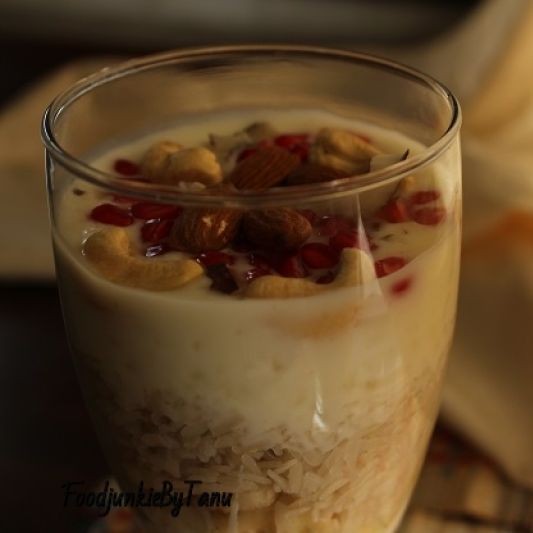 Dahi Chuda Parfait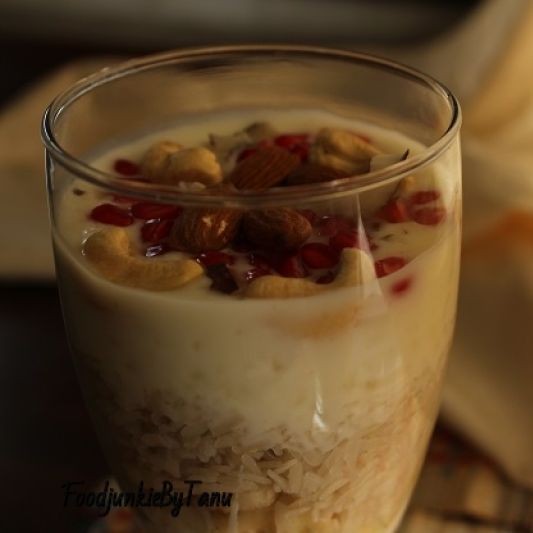 Dahi chuda or flattened rice with curd is a traditional breakfast in the Eastern states of Assam, West Bengal, Bihar and Orissa. It is an everyday breakfast and also made on certain festivals like Sankranti. Seasonal fruits are usually added to it. The Dahi Chuda Parfait is inspired from the humble Dahi Chuda. It was taken for a stroll down south and it ended up with a salted and crunchy twist added to it.
Ingredients
One cup flattened rice, 2 cups of thick curd, 1 cup Mixed fresh fruits (banana apple pomegranate), 1/4 cup mixed dry fruits (almonds cashew raisins), Sugar and salt to taste, Few curry leaves, 1 tbsp sambar powder, 1 dried red chilli, 1 tsp refined vegetable oil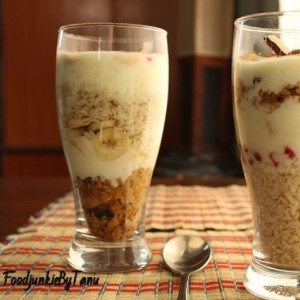 Process
Wash and soak 1/2 cup of the flattened rice for about 2 minutes. Drain the water and set aside.
In a deep frying pan or wok, heat the oil and temper with broken dried red chilli and the curry leaves. Add the remaining 1/2 cup of flattened rice, sambar powder and salt to taste. Toss well and set aside.
Lightly roast the cashew and almonds. Soak the raisins in water for a few minutes.
Beat half the curd smooth with sugar to taste and the remaining half with salt.
Layer a tall glass first with the soaked poha, add a layer of fruits, a layer of the sweet curd, a layer of the salted poha, a layer of the salted curd and finally a layer of the raisins and nuts. Or one can reverse the layers.
My Tip: The roasted salted flattened rice can be made by adding peanuts and flax seeds and stored in airtight container for up to a month. It makes a healthy snack option.